Business
Go the extra mile for your clients with Diamond Lounge Limousine.
Business & Corporate Events
Companies are increasingly looking into organising business and corporate events in order to increase brand awareness and attract new clients. Be it product launches, press conferences, or even hosting potential foreign investors, such events are of paramount importance for the growth of a business.
Planning such events can often be time consuming for businesses, so these would rather outsource to a reliable and professional provider. Diamond Lounge Limousine is fully equipped with all the necessary technological and logistical features to make your business and corporate event a memorable success.
Conferences & Meetings
Businesses still rely heaving on face-to-face exchange of information. Conferences and meetings remain the most popular way in which companies connect with potential investors and clients and disseminate key information.
And yet, most conference venues in Malta can be rather dull and uninspiring. Impress your meeting guests by hosting your event at Diamond Lounge Limousine. Our double decker limo can take up to 55 participants, includes state of the art audio and visual equipment, as well as the possibility of serving refreshments.
Staff Parties
The key to any successful business lies with a motivated and supported team. When things are doing well, any company should make sure that they thank their staff by treating them to a luxury experience.
Organise your staff party at Diamond Lounge Limousine, and we will pamper your staff while they let loose in our fully equipped entertainment double-decker limousine.

Corporate Events
Our Diamond Lounge Limousine has been designed to conquer.
Aimed to cater for the upper echelon of corporate clients its mobile function facilities are made to match and exceed clients' expectations. State-of-the-art audio, visual and lighting systems have all been built to rival five-star hotel facilities. Complete with an on board restroom,10 LED screens spread over two floors, Wi-Fi and Bluetooth access and a retractable curved LED screen among others the limousine is perfect for on board conferences, presentations and product launches.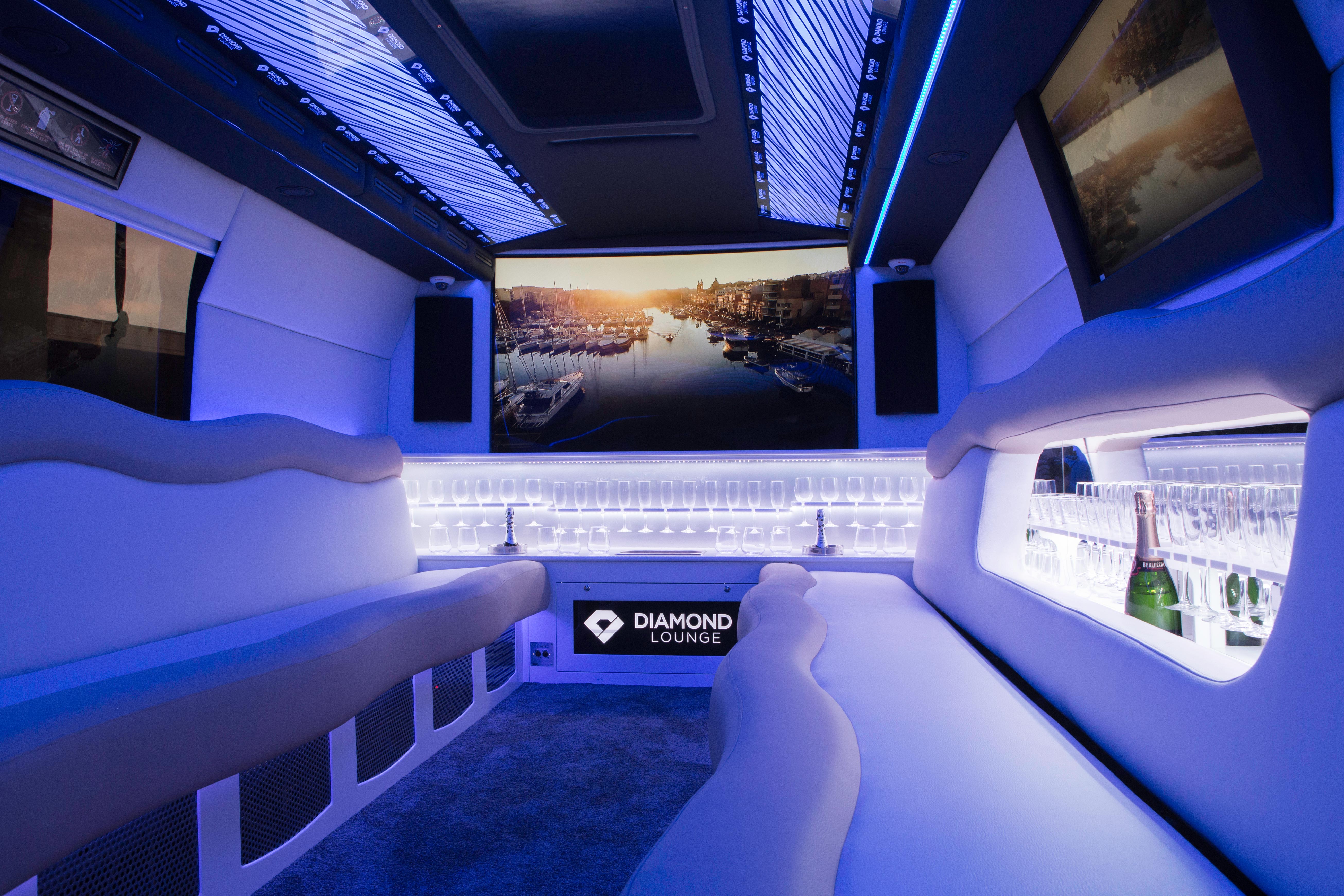 Entertainment
Give guests the VIP treatment on our state-of-the-art luxury limo.
Casinos
Experience the high-roller lifestyle with Diamond Lounge Limousine: whether you are organising a group event at a casino with your friends, or you're an established casino looking to escort VIP players to your premises, our double-decker limo is a sure bet.
With our fully stocked bar and top-quality AV equipment on board, guests can roll up to the casino lobby in style and ready to have the time of their life.
Concerts
If you are looking to transfer concert performers to rehearsals or the final performance, or transport premium ticket concert-goers to the venue, our 55-seat double decker bus comes fitted with all the necessary features for a luxurious and comfortable ride.
Guided Tours
Malta is home to some of the most impressive tourist attractions in all of Europe. There are many options to choose from when it comes to visiting such places, but we believe that getting to them should also be part of the experience.
Choose Diamond Lounge Limousine to host your guided tour, and travel around Malta's most iconic sites in style. Our limo has all the necessary features that will allow your guests to enjoy their vacation in full comfort and luxury.
Sporting Events
Sporting events are a hot ticket in Malta. With notable foreign teams using Malta as a training base, and national sport teams competing more frequently in international competitions, sporting fans have a lot to look forward to.
Diamond Lounge Limousine is the ideal choice for any sporting club or super fans that want to arrange comfortable transfers to and from sporting venues. Our double decker bus can be easily customised to match your guests' passion for their favourite team.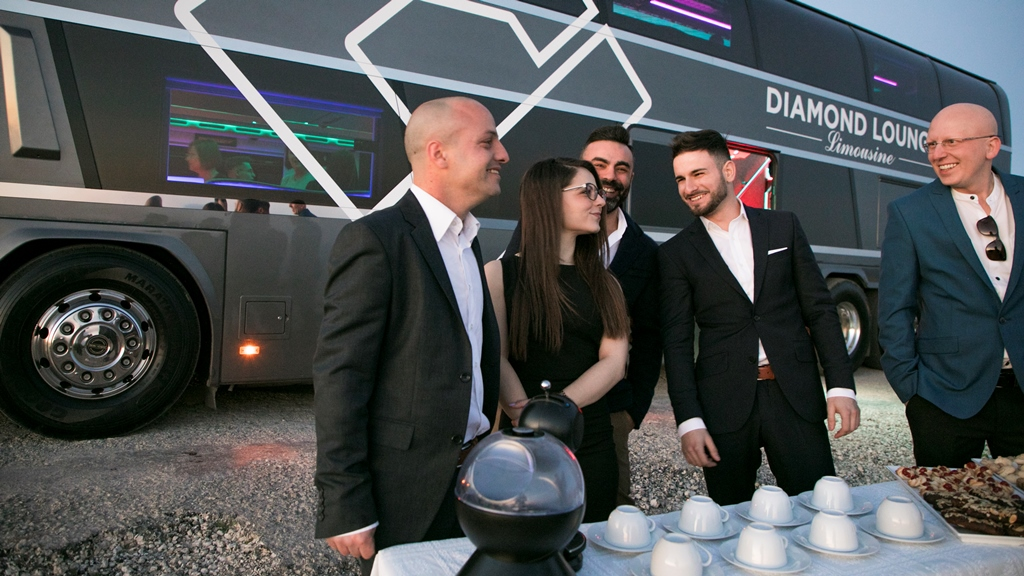 Festivities
Celebrate your special day aboard our double-decker limo.
Weddings
Weddings are beautiful occasions that bring together people to celebrate love, happiness, and new beginnings. Diamond Lounge Limousine offers couples a great and unique venue option that they can use during their wedding festivities.

Whether you are looking for a cool place to throw your hen party or stag-do, a fun and eye-catching transportation for your big day, or even an actual venue for your wedding, our double decker limo is the right choice for you.
Birthdays, Anniversaries & Parties
Any occasion is a justified reason to celebrate! If you are looking to organising your birthday party, marking an important anniversary, or simply throwing a party for your friends or colleagues, then consider your search finalised with us.
Diamond Lounge Limousine is Malta's best-double decker entertainment limo, that comes fully equipped with a bar on two floors, top of the range sound system, and a cool party vibe that will have your guests dancing the night away.
Graduations & Special Occasions
Being a student has its perks but completing a university degree can only be described as a challenging commitment. So it comes to no surprise that you would want to celebrate to the max when you finally complete your course.
Celebrate your graduation with the rest of your classmates aboard the Diamond Lounge Limousine. Our limo has all that you need to throw the perfect party for your graduation or any other special occasion.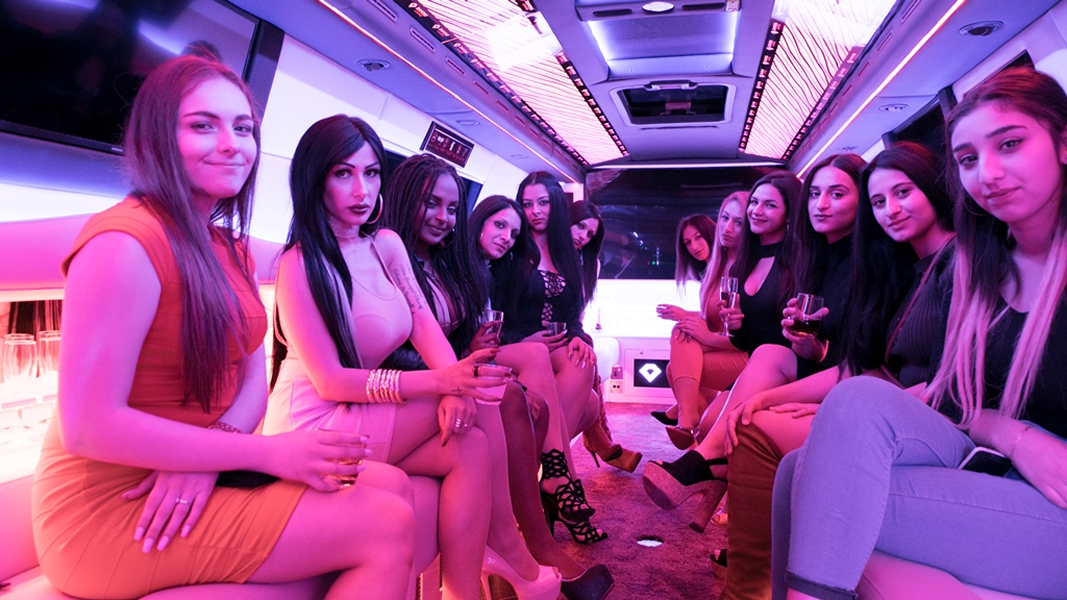 Guided Tours - the finest chauffeured driving experience Malta has to offer
Guided Tours - the finest chauffeured driving experience Malta has to offer
The Diamond Lounge Limousine offers a unique guest experience with what we like to call limo services to some of the finer attractions around Malta.
We pride in touring our guests with the highest level of customer service, integrity, sheer comfort and passion for Maltese art, history and culture.
Our company mandate centres on the satisfaction of our clients as we aspire to only the highest standards of service.
Guests will be able to enjoy our signature wine tours. The party will be able to experience and savour some if Malta's premier wine with a professional limousine chauffeur with an itinerary expertly set by our event planners.
The panoramic roof of the Diamond Lounge Limousine will provide a unique experience for our guests when touring Malta's top locations.

On Your Wedding Day
The sleek and classy Diamond Lounge Limousine is a unique and original option to create wedding celebration memories for a lifetime. The courteous and experienced team on board will transport the wedding party in a lavish environment personalized to the finest detail while the couple exchange their wedding vows. Wheel chair friendly, up to 55 guests can enjoy the variety of services while on board. The limousine features Wi-Fi, LED screens and a sophisticated lighting system to cater for different requests. With a bar on each deck the luxurious limousine offers maximum privacy with it's on board facilities creating a unique ambiance for your wedding.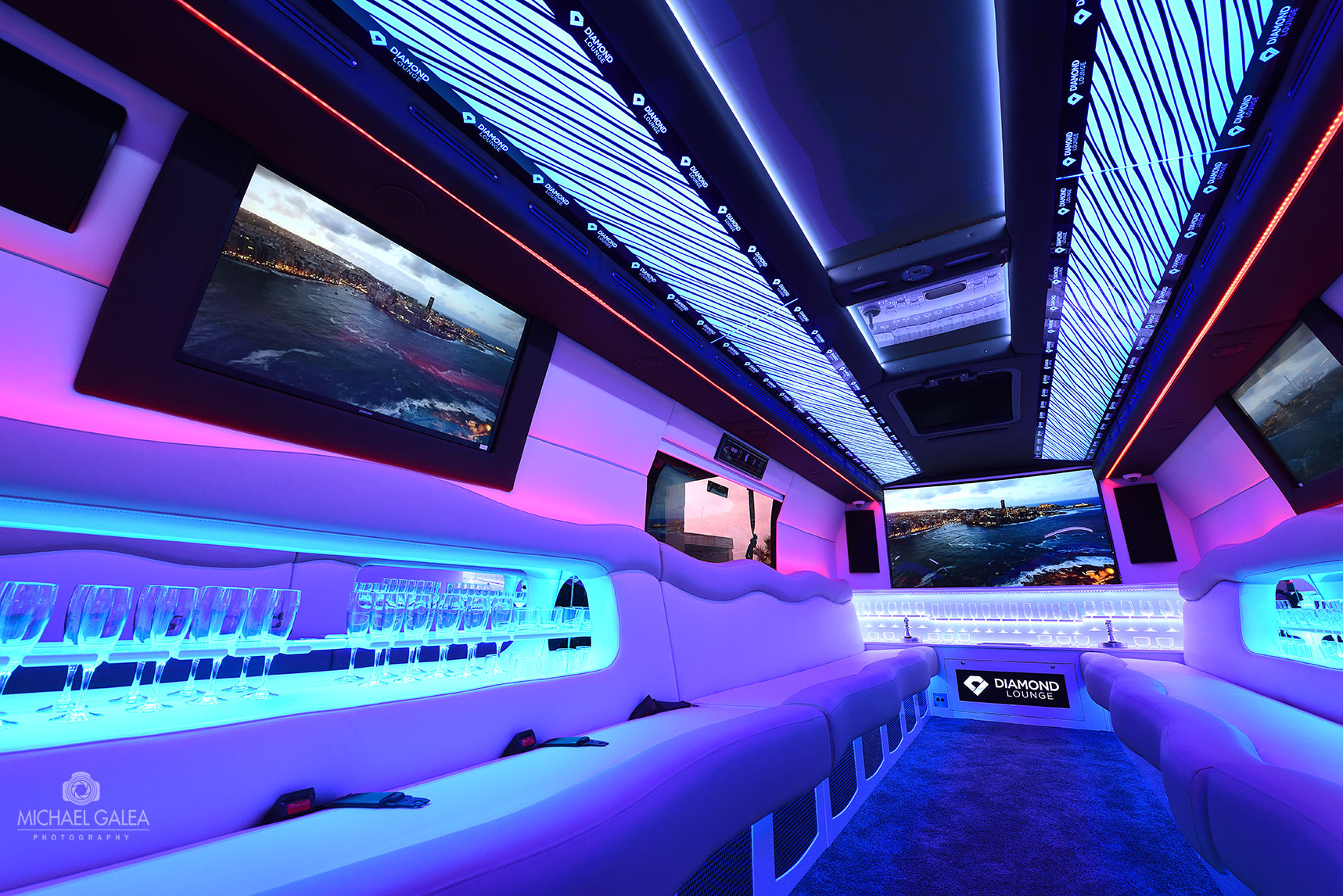 Your partner for Bachelor/Hen/birthday or Prom party
The Diamond Lounge Limousine can be your travel partner for your party. The modern limo is stylish, versatile and elegant. One can use this Limo for conveyance during several events, including partying out with friends.
Though it can be used for several purposes, the lounge limo is particularly popular for Bachelor and Hen parties boasting enough space to accommodate all of your friends and take you to the party in comfort and style.
Furthermore, the lounge-type seating and interior, karaoke, dance poles, waiter service champagne bars, 65@rdquo; curved TV, 10x32@rdquo; LED TV screens, disco effect lighting and state of the art audio and visual system can make your experience even more delightful.
The chauffeur and team of The Diamond Lounge are fully trained to deliver you ultimate service and surpass your expectations. No matter where you go the chauffer will wait for you and you have the freedom to spend maximum time with friends at the party.