Guided Tours - the finest chauffeured driving experience Malta has to offer
---
The Diamond Lounge Limousine offers a unique guest experience with what we like to call limo services to some of the finer attractions around Malta.


We pride in touring our guests with the highest level of customer service, integrity, sheer comfort and passion for Maltese art, history and culture.

Our company mandate centres on the satisfaction of our clients as we aspire to only the highest standards of service.

Guests will be able to enjoy our signature wine tours. The party will be able to experience and savour some if Malta's premier wine with a professional limousine chauffeur with an itinerary expertly set by our event planners.

The panoramic roof of the Diamond Lounge Limousine will provide a unique experience for our guests when touring Malta's top locations.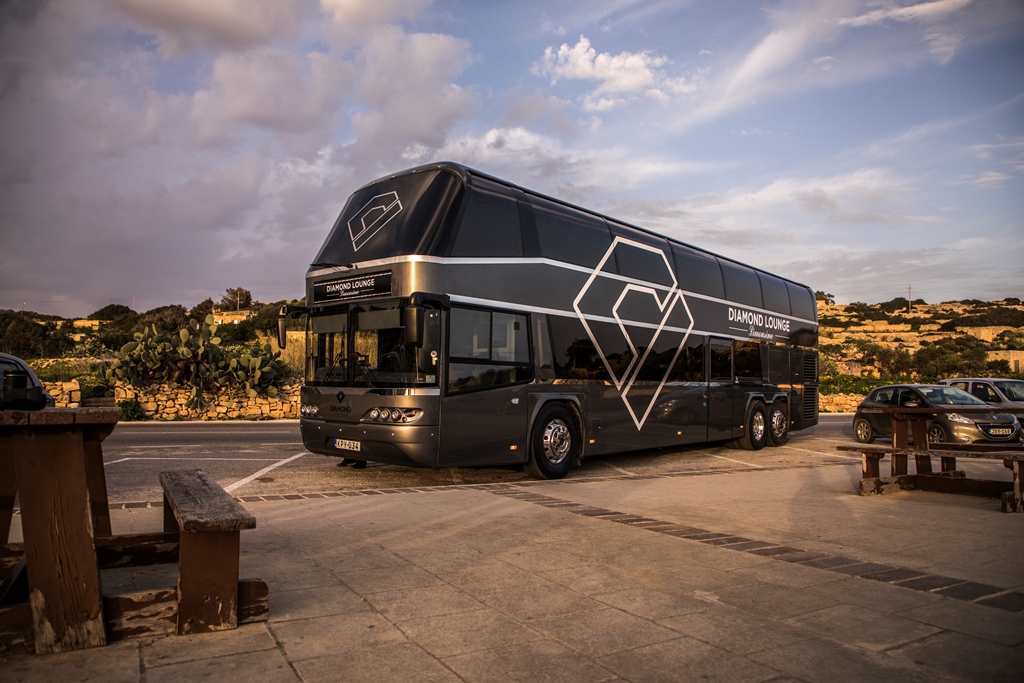 Corporate Events
---
Our Diamond Lounge Limousine has been designed to conquer.
Aimed to cater for the upper echelon of corporate clients its mobile function facilities are made to match and exceed clients' expectations. State-of-the-art audio, visual and lighting systems have all been built to rival five-star hotel facilities.  Complete with an on board restroom,10 LED screens spread over two floors, Wi-Fi and Bluetooth access and a retractable curved LED screen among others the limousine is perfect for on board conferences, presentations and product launches.
Weddings
---
The sleek and classy Diamond Lounge Limousine is a unique and original option to create wedding celebration memories for a lifetime. The courteous and experienced team on board will transport the wedding party in a lavish environment personalized to the finest detail while the couple exchange their wedding vows. Wheel chair friendly, up to 50 guests can enjoy the variety of services while on board.  The limousine features Wifi, LED screens and a sophisticated lighting system to cater for different requests. With a bar on each deck the luxurious limousine offers maximum privacy with it's on board facilities creating a unique ambiance for your wedding.
Your partner for Bachelor/Hen/Birthday or Prom party
---
The Diamond Lounge Limousine can be your travel partner for your party. The modern limo is stylish, versatile and elegant. One can use this Limo for conveyance during several events, including partying out with friends.
Though it can be used for several purposes, the lounge limo is particularly popular for Bachelor and Hen parties boasting enough space to accommodate all of your friends and take you to the party in comfort and style. Furthermore, the lounge-type seating and interior, karaoke, dance poles, waiter service champagne bars, 65" curved TV, 11x32" LED TV screens, disco effect lighting and state of the art audio and visual system can make your experience even more delightful.
The chauffeur and team of The Diamond Lounge are fully trained to deliver you ultimate service and surpass your expectations.  No matter where you go the chauffer will wait for you and you have the freedom to spend maximum time with friends at the party.